Taking photos and videos are important features that need to be on a smartphone. However, many of the phone's default cameras only meet basic needs. If you need more advanced options, please refer to our top 3 best vlogging camera apps below.
These apps have been selected and they are easy to use even when you're a beginner!
1. Filmic Pro
First, we have Filmic Pro (vlogging Camera apps). If you find that this name is quite familiar, that's understandable because Filmic Pro is a famous professional video app.
It was even combined with the iPhone to film some movie scenes. Do you find this impressive? So, with Filmic Pro, what can you do?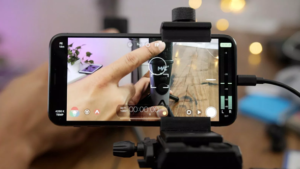 Many useful features
With a very professional user interface, Filmic Pro shooting operations are convenient and easy with beginners. Besides auto recording mode, you can customize lots of interesting specifications.
Specifically, adding Meta Data, customize ISO, FPS, manual focus, exposure, white balance, and shutter speed …
You can also control and customize the sound manually through the audio bar just outside the screen.
Note: Recording sound with external microphone will get sound quality better than smartphone's mic. A good lapel mic or a good mini shotgun mic for smartphone is the best choice.
Multiple choices of screen resolution and aspect ratio
Filmic Pro also gives you many different options in resolution (HD, Full HD, 4K …) depending on the capabilities of each smartphone.
In high-end smartphones, Filmic Pro can record up to the 4K resolution, 100MB speed – an extremely high image quality.
You can customize the aspect ratio to 16: 9, 4: 3, and 1: 1 (suitable for social networking platforms).
Moreover, advanced movie recording features such as Slow-motion, time-lapse … will help you unleash video creation.
Can be used on both Android and iOS
In the early versions, Filmic Pro only works on iPhone and iPad, but now we have the version for Android phones.
However, because this is a great video recording application, you need to pay to "touch" it.
Download Filmic Pro on https://apps.apple.com/app/apple-store/id436577167
Download Filmic Pro on https://play.google.com/store/apps/details?id=com.filmic.filmicpro
2. ProCam 6
This is a great camera app for iPhone. Although known as a photography app, ProCam 6 has an impressive video recording capability.
Similar to Filmic Pro, you can manually adjust different parameters, including exposure, white balance, ISO, manual focus and shutter speed.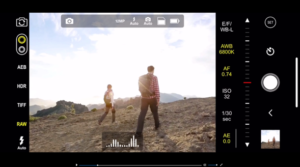 Many recording modes, including 4K resolution
This application allows you to choose popular shooting modes such as 24, 25 and 30 frames per second.
 Also, these features can be upgraded (full HD, 4K video recording) depending on the capabilities of each smartphone.
Sound monitoring and anti-shake
Recording with ProCam 6, you can also monitor the sound level collected from the microphone through an audio meter. But I need to remind you that you can't adjust the sound like Filmic Pro.
One of the ProCam 6 very beneficial features is image stabilization – also known as anti-shake. This feature is great for those who like to film when they are walking or moving at a slow pace.
Friendly user interface
On the interface, this is a pretty easy to use application. All important information is displayed right on the main screen such as battery life, memory card, recording mode … so you can control and handle in a snap.
Moreover, after filming is finished, you can quickly edit the video with the built-in editor.
Download ProCam 6 on https://apps.apple.com/us/app/procam-5/id730712409
3. Camera FV-5 Lite
Next, we come to an Android app. If you don't want to use Filmic Pro on your Android phone, try Cinema FV-5 Lite (Vlogging Camera Apps). Also comes from an application specifically for photography, but the developers of this app have created an improved version just for movie shooting. It has many great functions and only runs on Android.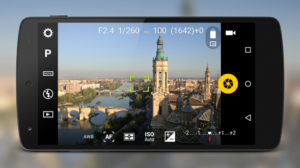 Many features for professional video recording
Cinema FV-5 Lite offers you many features for professional video recording such as increase / decrease exposure time, ISO customization, manual focus, white balance, zoom, different frame rates …
Of course, you can control the sound from the microphone.
Moreover, the Camera FV-5 Lite app also allows video recording in Time-Lapse mode. And it has an additional exposure mode for professional photographers to compose.
This application supports RAW, PNG, JPEG and RGB formats. Besides, Cinema FV-5 Lite also supports 30 languages.
Therefore, it is not surprising that Cinema FV-5 Lite is popular all over the world.
You can record videos in 4K quality
Like Filmic Pro, you can add Meta Data to your videos, so you know where and when you created them. You can also shoot movies in 4K resolution if your Smartphone has this capability.
Download Cinema FV-5 Lite on https://play.google.com/store/apps/details?id=com.flavionet.android.camera.lite&hl=en
To sum up
Created for photography lovers (even if you are a beginner), with these camera apps you can create quality videos, get great results.
This article includes 3 best vlogging camera apps. Therefore, if you have time, you can follow our page to learn more. Have a good day!