Most of the times many users search for how to remove security protection from PDF. Maybe they had received some important notes or confidential data from someone who doesn't want them to print, edit, copy, extract PDF. But, at times it is needed to remove PDF restrictions so that required operations can be performed. Moreover, many files are password protected, the user is asked to enter the password to view PDF. But, entering the password again & again makes users irritate. Therefore, here we have described the best solution which helps users to unlock PDF file with password or restrictions. But, before that let's understand the requirements of PDF unlocking.
What is Needed to Remove Security Protection from PDF
SysTools PDF Unlocker tool can be used to batch remove PDF restrictions. Along with this application secured PDF file is also required from which restrictions has to be removed. However, there are many non-technical users who don't know how to batch unlock PDF file with password or protection. Let's understand their queries in detail:
"Recently, I got some documents from my old friend & he told me to save all images from PDF. However, when I tried to perform this task I had found that this file allows me to select the data but it can't be copied anywhere. Does anyone know the solution to this problem? Please share as soon as possible. Thanks!! "
Manually Unlock PDF File with Password or Security Restrictions
Manual solution i.e. Google Chrome or Adobe Acrobat Pro can be used to remove security protection from PDF document but they have certain limitations. Google Chrome cannot be used to unlock pdf files locked for printing because it is only the print option that is being used to remove PDF restrictions. When the Print button is disabled or greyed out a user can't proceed further. On the other hand, Adobe Acrobat is highly costly which cannot be afforded by the normal users. Therefore, there is a requirement for some other solution.
Use SysTools PDF Unlocker to Batch Remove PDF Restrictions
This tool is an advanced solution to remove security restrictions from PDF in a more precise manner. With this software, a user can unlock PDF files locked for printing, copying, editing, commenting, signing, etc. Also, if the user is having password protected PDF document and the user wants to remove PDF password permanently then, this application is very helpful. Also, the user doesn't have to worry about any supportive application to run this tool. Because it is an independent application to unlock PDF file with password or restrictions. The software shows permission status also which described the restrictions present in the PDF document. Moreover, this software is very easy to operate the task.
Steps to Unlock PDF File with Password or Restrictions By the Tool
Follow these simple steps and remove security protection from PDF document:
1. Install & Run PDF Unlocker Software
2. Click Unlock button to proceed further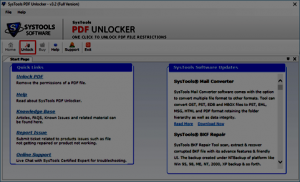 3. In the next step click the Browse button to add PDF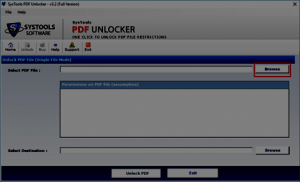 4. Then, select PDF and click Open
5. View all restrictions present in PDF & choose the destination location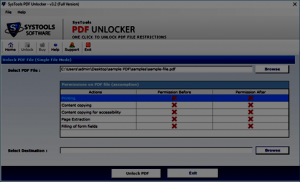 6. Click Unlock PDF button to begin the process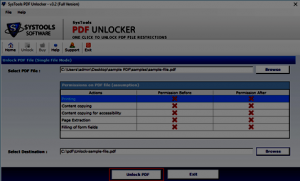 7. Preview PDF permissions comparison chart in before & after column
8. View unlocked file at the destination location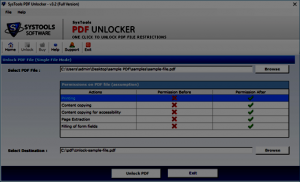 Basic Requirements of the Tool to Remove PDF Restrictions
1 GHz processor
512 MB of RAM
Supports Windows 10 & lower versions
10 MB of free hard disk space
Conclusion
The software is very effective to unlock PDF file with password or restrictions in an offline mode by keeping the data intact. The functionality to batch remove PDF restrictions is very effective. Using the software, one can easily remove known PDF password also. Once, the user enters the password the tool will remove security protection from PDF and make it free from the password. Moreover, the software also supports every version of Windows operating system to perform the PDF unlocking.